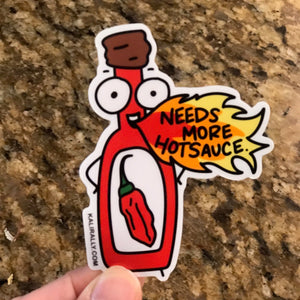 KALIRALLY
Needs more hotsauce sticker, funny spicy food sticker, I love spicy food sticker, waterproof vinyl sticker, kalirally decal
Regular price
$3.50
$0.00
Unit price
per
Calling all spice enthusiasts and lovers of fiery flavors! We have the perfect sticker to ignite your taste buds and add an extra kick to life's flavors—the "Needs More Hot sauce" Sticker.
Stick this sticker on your water bottle, your lunchbox, or even your trusty apron, and let it send a clear message to the world: bland is banned, and everything could benefit from a dash of heat. Whether it's a plate of eggs, a slice of pizza, or even a bowl of macaroni and cheese (Dad!), this sticker declares that hotsauce is the unsung hero of flavor elevation.
So, fellow heat seekers, embrace the fiery spirit and let this sticker be your rallying cry. Spread the message that life is too short for blandness and that a little hotsauce can transform the ordinary into the extraordinary.
Remember, it's not just about the heat; it's about the flavor, the adventure, and the rush that comes with embracing the spicy side of life. So, douse your meals with courage, liberally sprinkle hotsauce on every bite, and let the "Needs More Hotsauce" Sticker be your spicy manifesto.
Get ready to turn up the heat, ignite your taste buds, and let the world know that blandness is not an option. Stick it, sauce it, and watch as your culinary experiences reach new levels of excitement and flavor. Because, my friend, everything truly needs more hot sauce!
Features:
✅ Approximately 3" on its longest side
✅ Made with glossy sticker paper. Laminated with UV sealant to prevent fading and laminated to increase water resistance.
✅ Perfect for your laptop, hydro flask, water bottle, journal, car, mirror, or anywhere else you want to add a bit of personality.
✅ Stickers are waterproof but to ensure they last, handwashing is recommended.
✅ Gift this sticker to your loved ones.
✅ Exposure to excess water or heat for long periods of time may damage the sticker.
Thank you for shopping!
Contact us if you have any questions!
Also, if you're interested in art licensing, Contact us.
---
Share this Product
---