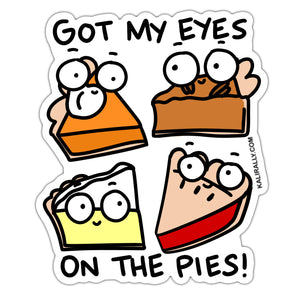 KALIRALLY
Funny pie sticker, eyes on the pies, I love pie sticker, baker sticker, waterproof vinyl sticker, kalirally decal
Regular price
$3.50
$0.00
Unit price
per
Calling all pie enthusiasts and baking aficionados! Feast your eyes on our delectable Pie Lover's Sticker. This sticker celebrates the art of pie-making and the sheer joy of indulging in slices of heaven.
This sticker features an irresistible assortment of pies from the rich and nutty Pecan Pie to the tangy and zesty Lemon Meringue Pie, the Apple Pie and the Pumpkin Pie.
Whether you're a seasoned pie baker or a passionate pie connoisseur, this sticker serves as a reminder of the joy that comes from creating and enjoying these delectable treats. Stick it on your recipe books, a kitchen appliance, or even an old mug with a logo you want to cover, and let the world know that you're a proud member of the Pie Lovers' Society.
So, embrace your love for pies, my fellow pastry enthusiasts, and let our Eyes on the Pies Sticker be your sweet ode to the joy of baking and indulging. It's time to celebrate the flaky crusts, the luscious fillings, and the moments of bliss that can only be found in a perfectly baked pie. Get ready to spread the love, one slice at a time,
Features:
✅ Approximately 3" on its longest side
✅ Made with glossy sticker paper. Laminated with UV sealant to prevent fading and laminated to increase water resistance.
✅ Perfect for your laptop, hydro flask, water bottle, journal, car, mirror, or anywhere else you want to add a bit of personality.
✅ Stickers are waterproof but to ensure they last, handwashing is recommended.
✅ Gift this sticker to your loved ones.
✅ Exposure to excess water or heat for long periods of time may damage the sticker.
Thank you for shopping!
Contact us if you have any questions!
---
Share this Product
---