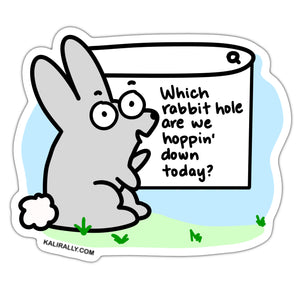 KALIRALLY
Internet rabbit hole sticker, easily distracted sticker, useless trivia sticker, waterproof vinyl sticker, kalirally decal
Regular price
$3.50
$0.00
Unit price
per
Are you ready to embark on a journey of endless distraction and absurd knowledge? Buckle up, my fellow wanderers of the web, as we introduce the Internet Rabbit Hole Sticker—an ode to the art of losing track of time and delving into the abyss of useless information!
Picture this: You innocently sit down at your computer, intending to quickly search for the weather forecast or the latest celebrity gossip. Little did you know, the Internet had other plans for you. Before you know it, you've stumbled upon a bizarre article about the history of rubber duckies or an in-depth analysis of why cats love knocking things off tables. We've all been there, my friend—falling down the rabbit hole of knowledge we never knew we needed.
But fear not! With the Internet Rabbit Hole Sticker, you can wear your distraction like a badge of honor. Slap this sticker on your laptop, phone, or any other surface, and let the world know that you're a master of procrastination, a connoisseur of the trivial, and an explorer of the digital unknown.
This sticker serves as a gentle reminder to embrace the delightful chaos that unfolds when you let curiosity guide your virtual adventures. It's a humorous symbol of the countless hours spent chasing the answers to questions you never thought to ask. From learning about the mating habits of dung beetles to discovering obscure conspiracy theories about pineapples, no topic is off-limits when you're deep in the internet rabbit hole.
So, fellow explorers of the pointless and the peculiar, equip yourself with the Internet Rabbit Hole Sticker, and proudly celebrate your ability to get lost in the vast expanse of the internet. Just remember to set a timer, or you might find yourself emerging from the depths of YouTube at 3 a.m., pondering the meaning of life while watching videos of goats in pajamas.
Go forth, my friends, and embrace the allure of the Internet Rabbit Hole with a sense of humor and a touch of self-awareness. Remember, sometimes the most unexpected discoveries are found in the strangest corners of the web. Happy clicking, and may your distractions be enlightening and ridiculously entertaining!
Features:
✅ Approximately 3" on its longest side
✅ Made with glossy sticker paper. Laminated with UV sealant to prevent fading and laminated to increase water resistance.
✅ Perfect for your laptop, hydro flask, water bottle, journal, car, mirror, or anywhere else you want to add a bit of personality.
✅ Stickers are waterproof but to ensure they last, handwashing is recommended.
✅ Gift this sticker to your loved ones.
✅ Exposure to excess water or heat for long periods of time may damage the sticker.
Thank you for shopping!
Contact us if you have any questions!
Also, if you're interested in art licensing, Contact us.
---
Share this Product
---